Each member of The InsideVegas Handicapping Staff has an average of 23 years of Sports Handicapping Experience.
Think of us as your personal "Sports Information Staff" that finds games for you that have a True edge.
This consensus is arrived at through accessing over 12,000 bettors at Sportsbooks in Las Vegas and Costa Rica. This access allows us to truly "follow the smart money" vs. the "Betting Public." Ultimately our clients are able to "Bet with the House" and "Against the Public." This is not like visiting "Covers" or "Scores and Odds" and THINKING you know what the Public is doing. This is employing the "Law of Large Numbers" and 12,000 people who represent the Truth as far as what the Public is betting on vs. what the House needs. And we all know that the House wins against the betting public long term.
Whether you want to try 1 day or a longer package (and experience a tremendous price break vs. the daily rate) please review your options below and let's make money together.
OUR INSIDE VEGAS GUARANTEE: If you purchase either our "TOP CONSENSUS GAME OF THE DAY" or OUR "THREE TOP CONSENSUS GAMES" and we don't win, we will work with you for FREE until you are on the PLUS Side.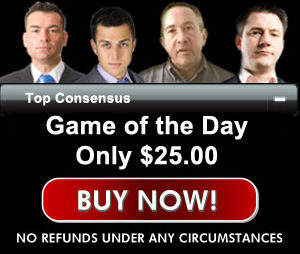 Today's Game: 
Our strongest Play of the day: Call our FREE Recording at 702-330-4489

Today's Three Games
:

 
Our strongest THREE Plays:

Call our FREE RECORDING at 702-330-4489. 

We have a winning day or 5 games FREE!